Skip to Content
This page lists all of the physical products that we still sell. Please be aware that these products were originally introduced over 10 years ago and do not have all of the features of our current app-based products, such as improved audio, course averaging, and the ability to do math on mobile devices. However, the content of our products remains the same on all versions...disc version, app version, etc.
There may be compatibility issues with Mac computers. For information about using the discs with a Mac, click here.
Replacement discs can be ordered by calling our office at (405) 525-3600, M-F, 8am-5pm CT.
---
Teaching Textbooks™
OR
OR
Textbook and Answer Key:
$39.95
---
Teaching Textbooks™
OR
OR
Textbook and Answer Key:
$39.95
---
Teaching Textbooks™
OR
OR
Textbook and Answer Key:
$39.95
---
Teaching Textbooks™
OR
OR
Textbook and Answer Key:
$39.95
---
Teaching Textbooks™
OR
OR
Textbook and Answer Key:
$39.95
---
Teaching Textbooks™
OR
OR
Textbook and Answer Key:
$59.95
---
Teaching Textbooks™
OR
OR
Textbook and Answer Key:
$59.95
---
Teaching Textbooks™
OR
OR
Textbook and Answer Key:
$59.95
---
Teaching Textbooks™
OR
OR
Textbook and Answer Key:
$59.95
---
Teaching Textbooks™
OR
OR
Textbook and Answer Key:
$59.95
---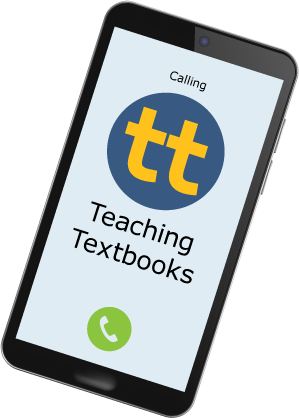 To order by phone, call us at
(1-405-525-3600)